Muffin Mania - Chocolate, Apple, Bran, and Berry
Muffin Mania has infiltrated my kitchen. What makes muffins so appealing? Is it the fact that they are a great grab and go food? Perhaps the ingredient versatility makes them so magnificent. Anyhow, over the last two months I must have baked at least ten dozen, no joke. Remember these
Special K Muffins
, very good indeed.
Naturally, I made several variations of these
All-Bran® Cereal muffins
. In one batch, I added raisins and chocolate chips. More recently, I doubled the recipe using 1/2 cup Just Bunches® Cinnamon flavored cereal in place of the bran and half-cup honey and half-cup light corn syrup and stirred in 1-cup Nestles® semi-sweet chocolate chips at the end. Those were my favorite variety of bran muffins ever. They were gently sweet with a hint of oats and cinnamon from the Just Bunches® cereal, and very moist. Doubling produced 18 muffins that were gone when I woke up the next morning. Everyone enjoyed them I guess. Another note when making these bran muffins, break up the Just Bunches® a bit and let the cereal/milk sit for 10-15 minutes.
I found these Taste of Home
awesome
chocolate (mocha) muffins on Allrecipes. The caption read,
"Chocolate lovers can't resist these cake-like muffins."
A deep, moist, rich, extreme chocolate flavor like no other muffin I have ever baked. In fact, I made them twice and never got the first photo, gone! And, although cake-like, they are definitely not cup cakes. After reading all the comments, I made a few adjustments to accommodating the family liking.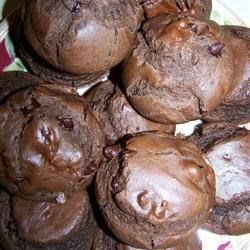 Photo - Allrecipes.com
Chocolate "Mocha" Muffins
Yields 2 dozen
Ingredients:
2 cups all-purpose flour
1 1/2 cups sugar
3/4 cup baking cocoa
1 1/2 teaspoons baking soda
1/2 teaspoon salt
3 eggs
1 cup Daisy light sour cream
1/2 cup cold strong coffee
1/2 cup milk
1/2 cup vegetable oil
1 teaspoon vanilla extract
3/4 cup semisweet chocolate chips
In a large bowl, combine the flour, sugar, cocoa, baking soda, and salt. In another bowl, beat the eggs, sour cream, water, milk, oil, and vanilla. Stir into dry ingredients just until moistened. Fold in chocolate chips. Fill greased or paper-lined muffin cups two-thirds full. Bake at 325 degrees F for 20-25 minutes or until a toothpick comes out clean. Cool for 5 minutes before removing from pans to wire racks.
Finally, the autumn season arrived and the craving for apples developed quickly. The result was several batches of Apple Oatmeal Muffins. Being a chocolate lover, I'm not prepared to say these were better than the Chocolate Mocha Muffins however, an abundant amount consumed. My changes to the original recipe are
(like this)
.
Apple Oatmeal Muffins
Ingredients:
1 1/4 cups flour
(increased to 1 1/5 cups)
1 cup quick cooking rolled oats
1/2 cup brown sugar
1 teaspoon baking soda
1/2 teaspoon salt
1 teaspoon ground cinnamon
3/4 cup plain yogurt (
1/2 cup Daisy light sour cream)
1/2 cup butter, melted
(I can't believe it's not butter)
2 eggs
1 1/2 cups apple, peeled and coarsely chopped
(increased to 2 cups)
(1/2 teaspoon ground ginger)
(2 tablespoons vegetable oil)
Preheat oven to 400 degrees F.
In a large bowl, combine flour, rolled oats, brown sugar, baking soda, salt, ginger, and cinnamon.
Combine remaining ingredients in a separate bowl and mix well. Add to dry mixture and mix only enough to combine. Spoon batter into greased or paper lined muffin pans.
Bake for 15 to 20 minutes. Mine baked for 15 minutes.
The ginger added a nice subtle flavor and increasing the apples seemed a necessity given the fresh fall air. Running low on sour cream, I added the oil for extra moisture, good move I thought. Perhaps one of my expert baking readers might suggest a better moisture alternative. Anyone?
♥